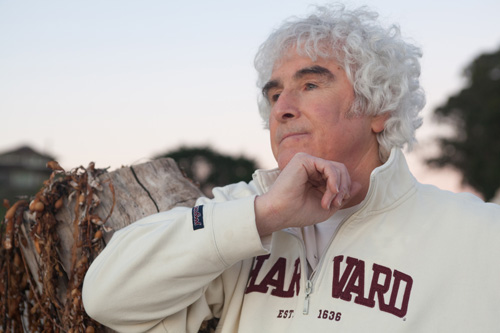 Daniel Sheehan is a Harvard College, Harvard Law School and Harvard Divinity School–trained Constitutional Litigation and Appellate Attorney. For close to five decades, Dan's work as an Federal Civil Rights Attorney, Author, Public Speaker and College and Law School Educator has helped expose the structural sources of injustice in our country and around the world. He has protected the fundamental and inalienable rights of our world's citizens and has elucidated a compelling and inspiring vision for the future direction of our human family. Dan's dedication to this vision and his work have placed him at the center of many of the most important legal cases and social movements of our generation.
Daniel Peter Sheehan was born on the 9th of April, 1945 in Glen Falls, New York, just 3 days before the sudden death of Franklin D. Roosevelt, making Dan one of the youngest persons whom you will ever meet who was alive during the presidency of Franklin Roosevelt and The New Deal. As such, he is a member of the "Senior Class" of The Baby Boomer Generation. He grew up in the tiny Up-State New York Adirondack Mountain community of Warrensburg, immediately between Lake Champlain and Lake George at the southern edge of the Adirondack forest, on the southern border of the independent Six Indian Nation Iroquois Confederacy. He was born at the very dawn of "The Atomic Age", just 100 days before the detonation of the first atomic bomb at The Trinity Test Site in the Jornado del Muerto Valley in New Mexico (the Valley on The Journey to Death.) Dan attended Catholic Mass every Sunday from the time he was 12 years old, which he continues to do to this day. During his teenage years he developed a strong sense of justice and an inclusive view of humanity. These values motivated him in both his studies and his other pursuits.
Daniel began his undergraduate career at Northeastern University. In the summer of 1965, he co-founded Roxbury Summer, a project of the Boston Catholic Archdiocese that converted no-longer-being-used Catholic High Schools in the Black ghetto of Boston into pre-school, child care, and job training centers for Roxbury's Black residents. He then transferred to Harvard College. There, under advisors such as Paul Freund and Arthur Sutherland, he wrote his Harvard Senior Honors Thesis on "The Historical Origins of The 5th Amendment – And a Prediction of the Outcome of The United States Supreme Court Case of Miranda v. Arizona" (establishing a criminal suspect's right to refuse to answer police questions without any attorney present). He graduated in 1967 with a Degree in American Government Studies with Honors.
Following his graduation from Harvard College, Dan continued his studies at Harvard Law School. He served as Chief Research Assistant to International Law Department Chair Jerome Cohen and as Co-Editor of the Harvard Civil Rights and Civil Liberties Law Review. He initiated, filed, and argued important cases on the First Amendment (In re Pappas) and reproductive freedom (Eisenstadt v. Baird). He also served under Professor Milton Katz, then President of the Association of International Jurists, as Director of the Biafran Relief Commission, which successfully circumvented the Nigerian Government's blockade of Biafra Province to deliver the widely-publicized emergency airlift of food supplies to the Biafran people that "broke" The Siege of Biafra by the Nigerian Government.
After receiving his Juris Doctor Degree from Harvard Law School in 1970, Daniel was recruited as Associate First Amendment Counsel by the #1 Litigation Law Firm on Wall Street, the law firm of Cahill, Gordon, Sonnett, Reindel & Ohl. Among other cases, he prepared the petitioner's brief for In re Pappas—which he had initiated and ushered to The united States Supreme Court while still at Harvard Law School—as well as preparing the amicus curiae (friend of the court) briefs for The New York Times, CBS News and ABC News for the companion cases of Branzburg v. Hayes and U.S. v. Caldwell following their consolidation, with In re: Pappas, by the Supreme Court. Dan was Legal Counsel to the Attica Prison inmates in the Western District of New York, securing the insertion of Legal Observers inside the prison. As one of the observers himself, he established that the civilian hostages that had been taken by the Attica Prison Inmates who were killed during the attack on the prison mounted by New York State Police were in fact killed by police gunfire…. and not, as had been falsely officially concluded by the New York State Coroner's Office, by The Attica Inmates. Dan also served as pro bono Associate Counsel for 21 leaders of the New York Black Panther Party when they were falsely accused of a bombing conspiracy. The jury in the case (State v. Byrd) found each of the defendants innocent of all 157 criminal charges….in less than 15 minutes, after 18 months of incarceration. But Dan's most well known case at The Cahill-Gordon Law Firm was the landmark First Amendment case New York Times, Co. v. U.S. (the "Pentagon Papers Case") in which The New York Times won the right for it – and The Washington Post – to publish a classified Pentagon study revealing the secret history of the Vietnam War. Dan served as Co-Counsel, before the United States Supreme Court, in that case, with Chief Counsel James Goodale (New York Times); Attorney Alexander Bickel (of Yale Law School); Floyd Abrams (of Cahill, Gordon) and Eugene Scheiman, one of Dan's life-long best friends and law partners.
Unwilling to represent a number of the corporate clients represented by Cahill, and frustrated by the firm's Executive Committee's attempts to curtail his work on "controversial" cases (despite a firm agreement of the part of The Cahill-Gordon Firm to allow Dan to spend 50% of his billable hours on public interest cases of his choice -so long as he did not litigate against any of The Cahill Firm's clients, Dan was "terminated" from The Cahill Firm left the firm in June of 1972. Having seen firsthand, through his work on the Pentagon Papers case and others, the Nixon administration's immoral and criminal conduct, Dan then accepted a position at the Democratic National Committee's Assistant New York State Campaign Director for Senator George McGovern's Presidential campaign and as the New York State Director of Voter Registration for the Democratic Party. While i that position, Dan filed and personally litigated the case that struck down the New York State law prohibiting mobile voter registration. As a result, the New York Democratic Party went on to register record numbers of voters that year. He also served under William Vanden Heuvel as Special Counsel to the Rockefeller Commission which oversaw the investigation by the New York City Knapp Commission's investigating New York City Police Department corruption. At the center of these hearings was the public testimony of New York City Undercover Police Detective Frank Serpico (later played by Al Pachino in the motion picture "SERPICO".)
Dan was then retained to serve as Associate Criminal Defense Counsel to the criminal defense firm of famed Boston-based criminal defense attorney F. Lee Bailey. Initially retained to defend Founding Partner F. Lee Bailey in a case brought against Bailey in Florida, Dan was soon moved to the position of "Special Counsel" in The Watergate Burglary Case before the United States District Court for the District of Columbia. During that case, the Bailey Firm's client James McCord wrote his now famous letter to Presiding Judge John Sirica. That letter revealed the existence of the infamous "Plumbers Unit" of Richard Nixon and the role of high-level White House officials in directing the operations of that unit, elevating The Watergate Break-In from a purported "Third-Rate Burglary" to the national political scandal that led directly to the return of Articles of Impeachment against Richard Nixon by The House Judiciary Committee and Richard Nixon's resignation from the presidency.
In September of 1973, Dan returned to Harvard University and began his graduate degree studies in the field of Comparative Social Ethics. During his second semester, Dan was asked to take a Leave of Absence to serve as the Chief Trail Counsel for the American Civil Liberties Union (ACLU) and to become Amicus Curiae Counsel for the American Indian Movement (AIM) during The Wounded Knee Occupation Cases. Working out of Denver, Colorado, he served both as Chief Trial Counsel to the Rocky Mountain Regional Office of the ACLU and as Legal Counsel to the Native American Rights Committee of ACLU National. Once again, Dan found himself at the center of momentous social events. During his tenure with the ACLU, Dan litigated several important First Amendment cases, including: In re Last Tango in Paris, successfully defending the multiple Academy Award-nominated United Artists motion picture against obscenity charges in the State of Idaho; Associated Student Body v. University of Wyoming, successfully defending the right of University of Wyoming students to screen motion pictures free from administration censorship; and In re Slaughterhouse Five, overturning a decision by the school district in Drake, North Dakota that banned—and burned—the Kurt Vonnegut novel Slaughterhouse Five and fired the high school Senior English teacher who had assigned it. While in that position, Dan also served as Chief Trial Counsel on several additional important Native American rights cases. In Mancari v. Morton, Dan authored briefs that led to a Supreme Court decision holding that the Federal Bureau of Indian Affairs' preferential hiring of Native Americans did not violate the Equal Employment Opportunity Act nor the Fifth and Fourteenth Amendments. Following the 1973 occupation of Wounded Knee by the American Indian Movement(AIM), Dan served as amicus curiae in the eight-month long Wounded Knee Trials against AIM leaders. The defendants were all acquitted after they demonstrated to the Federal Court a "pattern" of "willful government misconduct" in that case that led to the case being dismissed.
Dan then immediately returned to Harvard Divinity School and pursued his Masters Degree in Comparative Social Ethics and then his Ph.D from September of 1974 to June of 1975. During his studies, Dan began to research Human Worldviews under Professor Ralph Potter, developer of the famous Potter Box model for ethical decision-making and the protégée of famed Sociologist  Dr. Talcott Parsons, the Founder of Harvard University's Department of Sociology. This work—which Dan has expanded on over the last forty years—seeks to identify and explicate the predicate beliefs that undergird and define the eight primary Human Worldviews from which flow our human family's alternative: modes of ethical reasoning; philosophies; political philosophies; economic philosophies; theories of human psychology; modes of spiritual expression and social forms. One semester short of receiving his Master of Comparative Social Ethics Degree from Harvard, Dan was recruited to combine his spiritual beliefs, his legal training and his passion for justice as General Counsel to the United States Jesuit Order's National Office of Social Ministry in Washington, D.C. This position would have a profound influence on the rest of Dan's professional and personal life.
At The Jesuit National Headquarters in Washington, D.C., Dan partnered with Father William Davis, who introduced him to and connected him with leaders of the country's religious and progressive movements. There, Dan served as Legal Counsel for Fathers Daniel and Phillip Berrigan, Dick Gregory, Dr. Benjamin Spock, and Southern Christian Leadership Conference President Dr.Ralph David Abernathy among many others. Together, Dan and Father Davis developed a reputation as fierce advocates of the rights of political and peace activists. Then, in 1977, Dan was contacted by leaders of the National Organization for Women (NOW). Their leader was Sara Nelson, NOW's National Labor Secretary under Eleanor Smeal, who was the leader of a broad coalition of progressive groups seeking to bring attention to the death of Karen Silkwood. A chemical technician and union activist, Karen Silkwood was killed when her car was rammed and forced off a public highway in northern Oklahoma while on her way to deliver top secret files from the Kerr-McGee Nuclear Facility, where she worked, New York Times reporter David Burnham. Silkwood had informed David Burnham that she would deliver to him documented proof of "irregularities and safety violations" at the plutonium fuel rod-producing plant where she worked. Davis, Sheehan and Nelson formed an immediate bond. In concert with their allies, they filed a lawsuit on behalf of Silkwood's children. They organized a massive public education and organizing campaign to put a spotlight on the case. They won a record-setting $10.5 million judgment and established a new legal precedent in liability law that effectively ended construction of all new nuclear power plants in the United States by declaring unconstitutional the "cap" that had been imposed, by an industry-submissive Congress, on the maximum amount of private legal damages that could lawfully be imposed upon a private nuclear facility by a civil jury.
After The Karen Silkwood Case Dan and Sara founded, with father Davis, the famed CHRISTIC INSTITUTE. And Danny and Sara started their family with the birth of Danny-Paul.
In the Fall of 1979 (following their follow-up victory in The Three-Mile Island Case in Pennsylvania, the allies and architects of The Karen Silkwood Case reconvened in Washington, D.C. and founded the Christic Institute. Based on the ecumenical teachings of Teilhard de Chardin, and on the lessons they learned from their experience in The Karen Silkwood Case, the Christic Institute combined investigation, litigation, education and organizing into a unique model for social reform in the United States. Over the next 12 years, as Chief Counsel for the Christic Institute, Dan investigated and successfully civilly prosecute some of the most celebrated public interest cases of our generation. Dan and his Christic Institute represented victims of the nuclear disaster at Three Mile Island; they prosecuted the Ku Klux Klan and American Nazi Party assailants who killed civil rights demonstrators in Greensboro, North Carolina; they defended Catholic workers providing sanctuary to Salvadoran refugees in Brownsville, Texas; and, in 1986, they brought charges against 29 individuals involved in the Iran-Contra Affair (in Avirgan v. Hull). Filed under the provisions of the Federal Racketeer Influenced and Criminal Organizations Act (RICO), the case gave The Christic Institute broad investigative powers. Using these powers, Dan and his Christic Institute colleagues were able to compel testimony and subpoenaed evidence that revealed the existence of a "secret team" within the United States intelligence community that had been engaged in a decades-long pattern of overt criminal activity in their pursuit of largely illegal covert operations. The Christic Institute's suit and public education campaign created broad public awareness of the Iran-Contra Affair, eventually forcing the appointment of Special Counsel Lawrence Walsh.
Ultimately, then-President George H. W. Bush pardoned the principal conspirators and the Christic Institute's civil case, resultantly, dismissed by Federal Judge James Lawrence King. A Nixon appointee, King was later revealed to have been a Member of the Board of Directors of organized-crime accountant Meyer Lansky's Miami National Bank as well as a legal consultant to the Central Intelligence Agency. The final blow for The Institute came when Judge King ordered The Christic Institute to pay $1.5 million to cover all of the defendant's legal fees and defense expenses and George Bush then directed the Internal Revenue Service to revoke The Christic Institute's 501(c)(3) Tax-Exempt Charter on the grounds that: "Since no one of the people charged by The Christic Institute of what were essentially criminal offenses was ever criminally convicted (solely because George Bush, Sr. had, in fact, pardoned all of them after they had, indeed, been criminally indicted by Iran/Contra Special Prosecutor Lawrence Walsh for precisely the criminal conduct with which they had been civilly "charged" by The Christic Institute) –  the filing of that civil lawsuit was a "political activity" which is prohibited to all 501(C)(3) organizations.
Dan's Christic Institute was, therefore, unable to obtain any further Tax-Exempt contribution from either individuals or Foundations or Church groups with which to continue their fight against the attack waged against them – AND AGAINST IRAN/CONTRA SPECIAL PROSECUTOR LAWRENCE WALSH by the right wing allies of Oliver North's "Off-The-Shelf, Stand alone, Self-Financing 'Private' Covert Operations ENTERPRISE."
So Dany and Sara Nelson – and Father Bill Davis – AFTER GEORGE BUSH, SR. WAS DEFEATED FOR RE-ELECTION IN NOVEMBER OF 1992, moved out of Washington, D.C. and moved to California to continue their fight from there. They were immediately elected to lead the Romero Institute, named after martyr and Salvadoran Archbishop Oscar Romero ("If I am killed, I will rise again in the voice of the people") and soon began to take on other projects. Dan represented the family of United States Marine Corps Colonel James Sabow, a decorated Marine Colonel and the Assistant Chief of Staff at El Toro Marine Base in California who was the Commander of All U.S. Marine Corps Air Operations in the Western Hemisphere. Colonel Sabow was found murdered by a shotgun blast to the head in the backyard of his El Torro Marine Corps Naval Air Station home on the morning of January 22, 1991. His death was initially ruled to be "a suicide", but subsequent forensic evidence proved that the purported "suicide" was a physical impossibility. Dan also served as Legal Counsel to Dr. John Mack, the Chair of the Department of Clinical Psychology at Harvard Medical School in Cambridge, Massachusetts. Dr. Mack was a Pulitzer-Prize winning biographer who, utilizing the scientific methods of medical psychology, conducted extensive research into the phenomenon of alien abduction. In 1994, the Dean of The Harvard Medical School called Dr. Mack before a special hand-picked Faculty Committee and ordered Dr. Mack to "defend" his publication of his book Abduction: Human Encounters with Aliens. A clear violation of his free speech rights and his status as a long-tenured Professor at Harvard University—as well as a highly-respected clinician—Dan successfully represented Dr. Mack before this committee, and secured his right to academic freedom.
Dan's work for – and the, later, with – Dr. Mack was not the first time Dan had come into contact with the issue of the potential of Extra-Terrestrial Intelligence. In 1977, Dan served as a "Special Counsel" to the United States Library of Congress' investigation into the existence of extraterrestrial intelligence that had been expressly requested by then President Jimmy Carter. Following this work Dan was invited to present a Three-hour, closed-door seminar on the Theological Implications of Our Contact With Extra-Terrestrial Intelligence to top 50 scientists assigned to The SETI Project (the Search for Extraterrestrial Intelligence) at NASA's Jet Propulsion Laboratory. Given these experiences, Dan was in a unique position to handle legal issues surrounding the extraterrestrial intelligence debate. In 2001, Dan was invited to serve as General Counsel to The Disclosure Project, which coordinated the sworn testimony—before staff members of the United States Congress—by former U.S. Military Officers, Federal Aviation Administration officials, and NASA employees attesting to their own direct personal knowledge of Government information confirming the UFO phenomenon and the belief on the part of important agencies of our government in the existence of extraterrestrial intelligence. Dan also served as General Counsel to the Institute for Cooperation in Space, a U.S. citizens group dedicated to banning space-based weapons and the development of any weapons intended for offensive use against potential extraterrestrial civilizations. Dan has, since that time, been invited, on numerous occasions, a speak on "The Philosophical and Theological Implications of the Human Discovery of Extra-Terrestrial Intelligence at the International UFO Congress and at The Mutual UFO Network.
More recently, Dan's work has focused on identifying and cultivating non-dialectical, cooperative models for change. After arriving in California, Dan served as the Director of the New Paradigm Project at Mikhail Gorbachev's State of the World Forum. There he joined world leaders in examining the obstacles to a new era of sustainable economic and social organization and development. Through the Romero Institute, Dan is currently working to establish the New Paradigm Academy, a year-long program that will give young leaders of the Millennial Generation the tools they need to effectively address global challenges. The New paradigm Academy will house The Worldview Institute, a think-tank that will utilize an understanding of human worldviews to apply to the resolution of global political and policy problems. For the past twelve years, Dan and Sara and the Romero Institute has also spearheaded the Lakota People's Law Project, working with leaders of all nine Lakota Indian tribes in South Dakota. Together they are working to ensure State compliance with the Indian Child Welfare Act (ICWA) amd helping craft the defense cases for DAPL water protectors.
Daniel Sheehan currently lives in Santa Cruz, California with Sara and their two sons, Danny-Paul and Daegan and teaches at the University of California at Santa Cruz. Dan is the author of THE PEOPLE'S ADVOCATE for COUNTERPOINT PRESS of Berkeley, California.